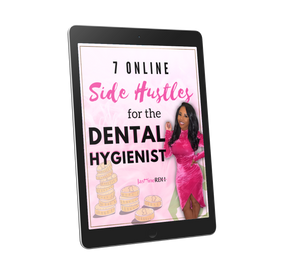 7 Online Side Hustles for the Dental Hygienist
Written by Jasmine Williams, RDH, BSDH, MHA 
It is said that the average millionaire has at least 7 streams of income.
If you're looking to add supplemental income to your salary, this is the e-book for you! In this e-book, we will cover 7 ways that you can start making money today from home using the expertise that you already have! 
No start-up costs required. No social media followers required. Get started immediately!
You will instantly receive a link to download the ebook in your email once payment has been completed.
All sales are final.